You know what's awesome? Childhood obesity. Just a few short decades ago, this wasn't an issue. Like, at all. You'll be relieved to know we've solved that problem. Hey, we're America. We innovate.
The rate of childhood obesity has doubled since 1980. The rate of adolescent obesity has tripled since the year St. Helens blew her top. Now that's the kind of growth spurt I like to see!
Of course, you can't fatten up five-year-olds without junk food. But for maximum results, they have to be able to play with the food, too. Hey, Jesuits: you could learn a thing or two from the crap food producers of America. Give a tot a Happy Meal, and I'll give you an obese, diseased, miserable human being for life. And that miserable human being will spend a lot of money on health care. Because children turn into adults. Sweet!
Of course, this kind of innovative growth requires brilliant and inconsistent advertising that says one thing and one thing only: as long as we pretend to give a sh*t, it's all good.
You might also want to consider "special" food for children that is separate from food for grown-ups. This special food is, almost without exception, made of cheap sugars, refined grains, and chemicals – and entirely devoid of nutrition. Brilliant, right? Well, almost…
This "special" food should be marketed effectively. You can have the worst products in the world, but if you don't know how to market them exclusively to children, you're in trouble. Fortunately, children are susceptible to manipulation because they trust us adults and lack critical thinking skills. They actually think we care! Wow, are they in for a surprise in about five years. For now, advergaming rocks. And thank heavens for the internet!

Also, in order to destroy the health and happiness of a generation, make sure that the majority of restaurant menu offerings explicitly created for, and directed at, children are comprised of deep-fried, refined garbage. Popcorn shrimp. Chicken nuggets. French fries. "Meat" fingers.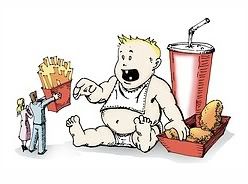 Remember, however, that it takes a village. Schools should sling toxic junk at gullible children just to pay the bills. Children currently get nearly one-third of their calories from sweetened beverages, but with your help, we can do better.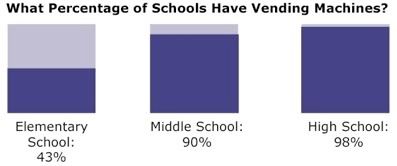 Unfortunately, a few states are working hard to combat childhood obesity. I don't think we have to say which ones.
However, despite a few setbacks like California and bleeding-heart liberals, the obesity growth spurt just gets better! Check it out: we now have clothing to accommodate obese babies.