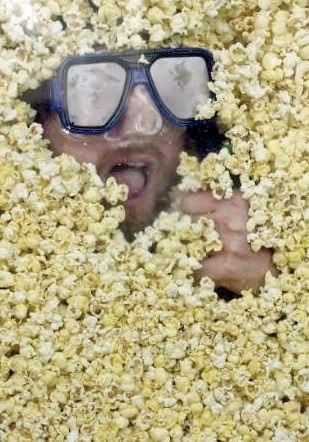 A man who ate two to three bags of microwaved extra-butter popcorn for a decade has developed popcorn lung.
Thank You For Popping?
This is not the first case. Popcorn lung, or broncheolitis obliterans, is a deadly disease that ravages lung tissue and leaves its victims dependent upon an oxygen tank to survive. It turns out that popcorn lung is prevalent among popcorn factory workers and the buttered popcorn industry has known about the problem since 2002. This man's particular story is the first time popcorn lung has gone public.
Doctors couldn't figure out what was wrong with the man, but one practitioner who knew about popcorn lung decided to ask him if he had happened to be around popcorn at any point. His response: "I am popcorn."
To be clear here, it's not eating the butter flavoring that causes popcorn lung. It's only inhaling the butter flavoring that is potentially dangerous. America's favorite almost-butter contains the chemical diacetyl, which authorities remind us is totally safe for consumption. That's good, because we all know how unhealthy real butter is. In people suffering from popcorn lung, the scarring to the lungs is so severe, a lung transplant is the only permanent solution.
The history of popcorn: from farm to factory
UPDATE: ConAgra has just announced they will be dropping diacetyl.
NOTE: B5 is having technical difficulties, so I really apologize for the suckitude interface and load times a la 1992. We're working on it! Thanks for your patience, gang.