Weddings take a long time to plan, and lets face it, wedding cakes are just fabulous to look at. I love looking around the internet at all the different designs, galleries, and pictures. I made my daughter's wedding cake, and a couple of others, although they are not in the same league with any of these I had a great time doing it. I know alot of couples plan for spring weddings so I thought maybe a wedding cake gallery would be a fun thing to do. I hope you enjoy the talents of these cakers as much as I have.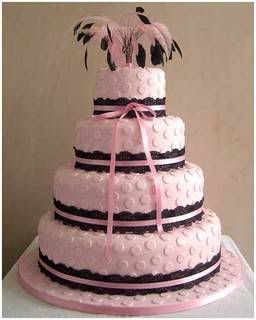 The first is from Maisie Fantaisie in the UK. I fell in love with nearly every cake in the wedding cake gallery! This however, takes the cake, so to speak, as my favorite. It should have been my daughter Erin's cake because it looks so much like…her! I love the exhuberance, the excitement and the absolutely stunning design.

The next is from Sweet Art Cakes. I love this cake, with it's old fashioned, stencilled rose design. It is just romantic simplicity to me!
Another UK Bakery! This time I really couldn't decide between two cakes from Sweet Unique,
.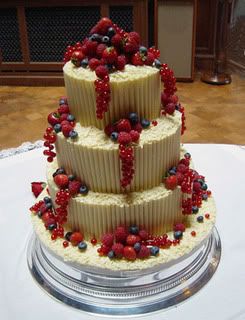 I am sure you can see why. The first is so elegant and classic, but the second is so full and luscious! All of their wedding cake designs were beautiful!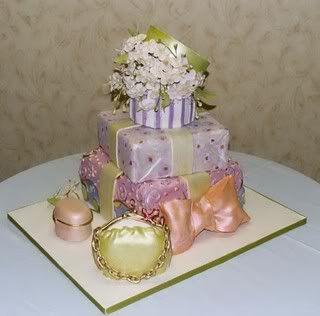 If you are looking for floral wedding themes, and I mean intensely colored and beautifully done floral cakes then Wildflowers is where you want to look! This cake is so unusual but nearly every cake she has pictured has a plethora of flowers in all colors and shapes, absolutely gorgeous. Every bit of this is edible I think.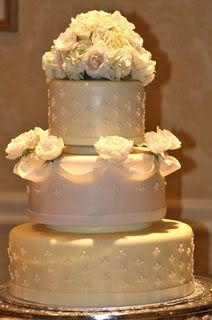 This is from Kendall's Cakes. I really like the swags, the combination of smooth and texture, and the romantic, soft color. I can imagine this by candlelight…Perfect for a small romantic wedding

Celebrate Cakes has got to win for one of the most unusual frosting styles..I would be almost afraid to eat this….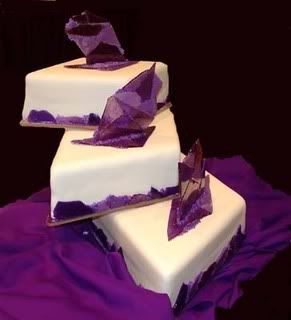 If Jennifer at Offbeat Homes ever gets married I am going to personally fly out and do this cake for her…It is a fabulous arrangement from Sugar Artistry By Susan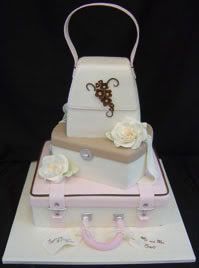 This cake is ready to go…Perfect for the couple on the way to their honeymoon! Planet Cake is an Australian Bakery that has some really imaginative stuff.
Just Fabulous Pastries is…well…just fabulous. I am ending with them because I was so undisciplined that I couldn't decide between cakes and I ended up pulling out 11 of them before I forced myself away from their site…Some are not wedding cakes per se but were just so cool that I could not resist. Theya re all edible, all cake, and all amazing. Enjoy!
This cake is covered in old, edible black and white photos of Paris, if I remember correctly…Tres Romantique.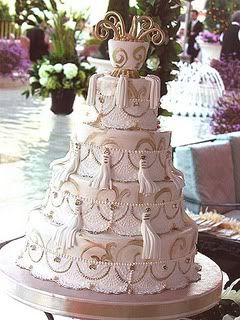 Tassels!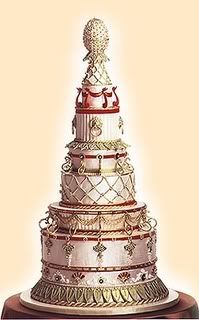 I just love each of these more than the last.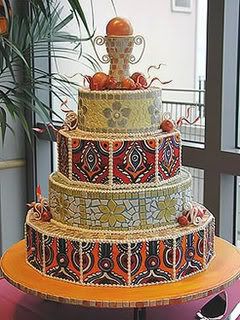 Mosiac….I think I have some antique tiles that look like that…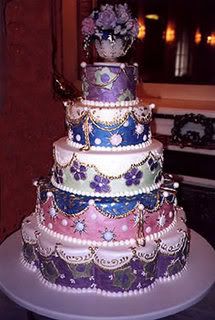 Doesn't this look like enamelware?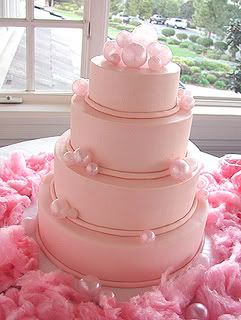 This is so frou frou..not me at all..but beautiful. I think this cake is for blondes only.
This is a birthday cake but it oculd be a wedding cake if the couple's picture was added to the faberge egg.. Of course, I would not turn it down for my birthday….in April.
How do they DO this?
Arabian Nights…..Serve with a harem outfit.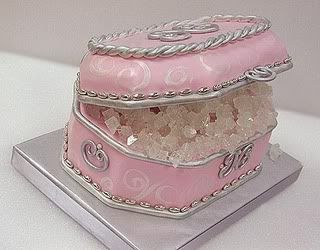 I think this one was called, Diamonds Are A Girl's Best Friend. I know a few girls that would love this!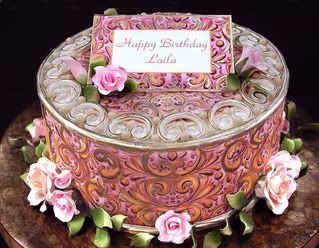 And this is the last…but not the least. I know that I strayed from the wedding cakes..but I imagine you can see why. Any of the brirthday cakes could easily be adjusted to be wedding cakes… wow…just beautiful, don't you think?