The month of October has been set aside to create more awareness about the fight against breast cancer. Most of us have been touched by this disease in some way. A friend, a family member, someone we work with, every day we hear of people fighting this horrid monster. My sister in law is a survivor. A friend passed away in August. I recently had an abnormal mammogram (all is well, praise God,). Somewhere someone is dealing with this.
Here at B5′s Home and Dining Channel we wanted to do our part to raise the awareness. Be sure to check out each post for ideas ranging from things you can do to just Think Pink. Each of us, in our own way, supports the fight against breast cancer with everything we have. We hope you do as well.
Since it was hard to find recipes using breast milk (LOL!!), and I had stopped nursing a year or so ago, I decided that a list of 10 Pink Foods would be my contribution. What can you do to raise awareness with 10 Pink Foods? Well, you could have a Pink Bake Sale and contribute the funds to research. You could have a Pink Party. Pink Parties were popular in the 1940′s and all pink foods were served. You could have one of those and have your guests donate to the cause. You could bake something pink for someone you know that is battling the disease, just to say, I care. Use this as a jumping off spot for your own wild imagination!
I want to add that Kitchen Aide has a package to help you do a dinner party fund raiser,called cook for the cure Check it out!
1. From Bon Apetit, Ginger and Pink Grapefruit Cheesecake
2.OhMa's Pink Whipped Cream Cake This looks wonderful.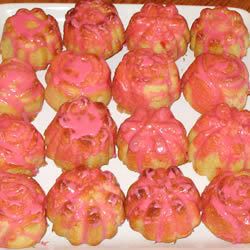 Rose of Lebanon Cakes From Group Recipes
3. Rose of Lebanon Cake I love Group Recipes. These cakes are made wit almond extract and rose water. Very exotic and can you imagine how the kitchen smells when you are making them?
Picture From La Tartine Gourmand
4.La Tartine Gourmand is an amazing blog. Bea created this beautiful strawberry/raspberry charlotte for her birthday and it is superb in everyway.
5. Betty Crocker has a great recipe for Pink Lemonade Thins on their site. A beautiful shortbread cookie that would be delicious with an intense chocolate ice cream.
6. My own Tomato Swirl Bread makes a beautiful cheese sandwich to go with cream of tomato soup!
7. A Strawberrry Angel Food Roll is a beautiful dessert, and rolled cakes are much easier than they look.
8.From Eating Well, a frozen raspberry pie with a chocolate crust that is beautiful! Classic black/pink combination is always striking. And this one is healthy!
9. Tropical Fruit Tart is still one of my favorites.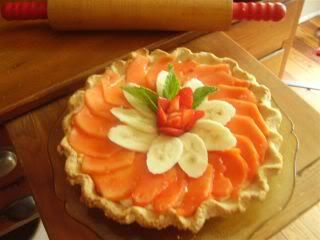 and…finally…
10.White Chocolate Raspberry Cookies Yummy!
It was amazingly hard to find pink things for this article. I mean, really. However, remember that YOU can contribute to keeping pink desserts ALIVE! YES! Please, before pink deserts are but a rosy memory, get involved with the Boobie Bake off and create a pink dessert today..You will be glad that you did, as well as knowing that you have preserved pink foods for future generations.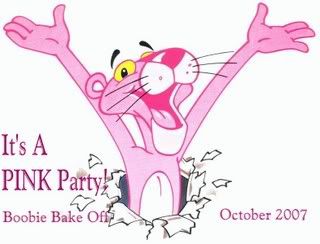 Check out the other "Pink" Posts Today:
Declutter It
The Food Bowl
Chocolate Bytes
Keeping the Castle