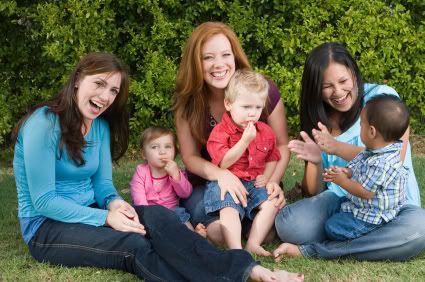 The following is an article that I had published over at the Crazy Hip Blog Mamas. It is an important lesson for parents and children alike!
 "Mom, I don't have any friends at school," my four year old complained on the way to school one morning.
"Well, in order to make friends, you need to be willing to introduce yourself. Tell them your name and ask if they would like to play."
Without hesitation, he replied, "But Mom, I'm too scared to do that."
"I know it can be scary, honey, but it is the only way to make a new friend."
Later that day, as I sat alone at the park watching my toddlers play with neighboring children, I realized that I was very lonely. We had just moved into the area, and I had not made one single friend. I had been terribly homesick and battling blues for a few months. Despite the encouragement I had been doling out to my kids to make friends in their new environment, I myself had not been practicing what I preached. The solution was clear, but not as easy as it seemed.
There were other moms at the park that day, but they were already buddied up with someone. I am an extrovert, by nature, but this was terrifying. How many moms have approached you with the request to be your friend? Wouldn't you think them a little strange? I know I would. I had to come up with a plan, and fast. I looked and felt ridiculous twiddling my thumbs in the remotest part of the play area. I began to have a profound empathy for what my children were facing at their new schools.
Just then, a voice snapped me out of my thoughts.
"Is that little boy yours?" It was another mom, inquiring about my three year old.
"Yes, he is."
"He is such a sweetheart!"
We talked for quite awhile as we watched our kids play together. The fear of rejection and looking like a total idiot, quickly dissipated as I realized that they key to making friends is commonality. If you find a point of commonality, which for moms is obviously having children, then initiating conversation will be a piece of cake. You may find that the two of you have a ton in common, as the conversation progresses, and become friends. Or you may find that she is a person that you do not see eye to eye with. Either way, at least you didn't spend your time watching the grass grow and feeling lonely.
I shared my new found philosophy with the kids, later that day, and it has helped them tremendously in their endeavors to make new pals. More so, it has helped to lessen my home sickness and depression. I am now able to spark up a nice chat with any mom who may be sharing the local park that day. I have even worked my way up to approaching an already formed duo of mommies, and inviting myself in to the topic of conversation. It gets easier every time I try. Chat rooms are great, and phone conversations are helpful when I need to hear an old friend's voice, but the need for face to face interaction will never die. Now that I have learned to integrate that into my life again, I am a much happier person, and a better mom!