It's the Holiday season, everybody wants to get fun, festive and a little cheerfully tipsy. Let's face it, we're going to have Eggnog and Milled Wine coming out of our pointy elf ears, let's mix up something a little different.
We hunted down recipes for some offbeat holiday cocktails that would be boozy, cute and a full of seasonal cheer. Since it's the holidays, we're willing to indulge on some beverages we wouldn't ordinarily be caught dead imbibing.
Let's find this year's Christmas Spirit:
Cranberry Cocktails via Martha Stewart. Let's just trust Martha Stewart when it comes to entertaining for the holidays. Those cranberry stacked skewers would be cute without the decapitated Santas too.
Poinsettia via MixThatDrink. It's festively colored and uses the most festive drink of all: Champagne. Any champagne cocktail is a winner. 
Naughty & Nice Buttered Rum via Big Daddy's House- Hot buttered rum sounds, um, interesting, but it's a classic. We'd like to try this one, even though we are definitely only naughty.
Peppermint Froth via About- Anyone who pretends they think this foamy fudgy treat this is gross is a humbug.
Chocolate Candy Cane Martini via The Weary Chef. I want to drink this because it would feel like drinking peppermint chocolate milk out of a martini glass. This cocktail is my Christmas wish.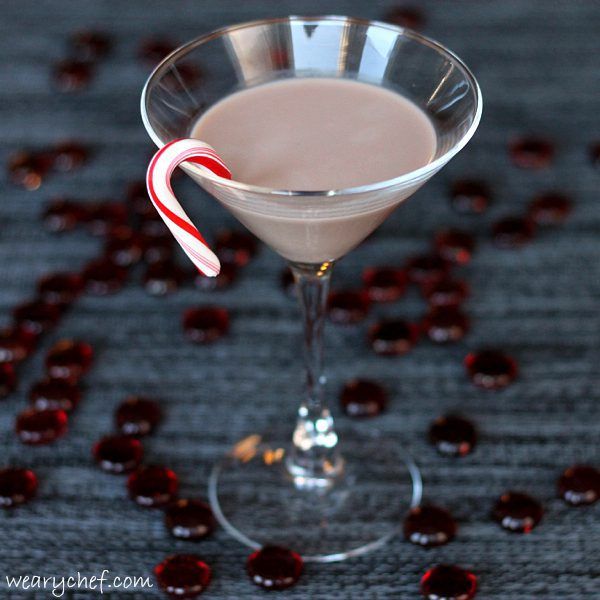 Maple-Bourbon Hot Chocolate via Vanilla Garlic- We can't really formulate a comment for this one because we are drooling over that combination of all of our favorite things.
BRB going to the liqueur store.